Presents
Healthy Thai Cooking Class
by
Day Longsomboon
Owner and Chef at Tamarind Thai Restaurant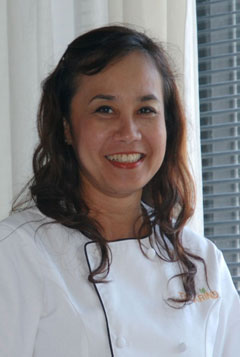 Saturday, May 21, 2011 — Noon to 2 pm
Tamarind Thai Restaurant at 946 Normandy Drive, Miami Beach FL 33141
Cost: $25 per person – Proceeds to benefit H3 Please RSVP/Space is limited
H3 is proud to present a Thai food class led by Day Longsomboon, owner and chef at Tamarind Thai Restaurant. Join us on this healthy journey and learn how to cook Thai food, a healing fuel for our body.  After preparing your own Thai meal, you will have the pleasure of eating it.
There is an old saying that Day firmly believes in, "we are what we eat". We should be conscious about what we put into our bodies and choose foods that will be beneficial to our health and fuel energy. Thai cuisine is extremely healthy and often overlooked by many people. The thought of cooking Thai food at home can be a little overwhelming and a bit unexpected.
At this workshop, Day Longsomboon will show easy step by step basics on how to prepare authentic and flavorful Thai dishes ranging from soup and salad to a main dish. In addition, she will also share her approach to cooking as a way to relieve stress, relax and enjoy the art of preparing food. Participants will gain the confidence to return to their own kitchens and effortlessly recreate those dishes and many more.
Menu:
Soup: Basic of making chicken and vegetable broths for Thai soup.  Galangal and lemongrass soup with or without coconut milk, with or without meat.
Salad: The most famous Green Papaya Salad and its variations.
Main dish: One dish meal of rice cooked with mixed vegetables and its variations.
Drinks: Complimentary refreshment—Ginger Lemonade.
Please note space is limited, reserve soon.
About Day Longsomboon:
Day Longsomboon is a chef and a co-owner of the Tamarind Thai Restaurant, Miami Beach. Her family learned to cook from the members of the Thai royal households.  Day learned firsthand how to prepare the kinds of dishes that are cooked in traditional Thai kitchens from her grandparents and parents.  Prior to opening the restaurant, she was a researcher at the Diabetes Research Institute, University of Miami. It was there that she began to recognize the health benefits of her native cuisine.  Since then, Day has been doing research into good diet, nutrients, and the ingredients of Thai cuisine. Her passion for cooking has led her to open this restaurant with a mission of sharing her healthy native cuisine with those who seek to try something new.
Check the Tamarind website for more details about her work/restaurant: http://tamarindthai.us/events/2011/04/29/to-good-health-with-thai-cooking/#more-1244
Parking and Busses:
Parking available on the street and for those coming from South Beach by bus, the L bus passes by the restaurant.
For more info or RSVP, please email info@h3hope.org or call 305.531.2046.